0 items | $0.00
Biography
Clive Barber
photographer
Clive barber was living and surfing around Northern NSW in the late 1960's at a time when surfers would sleep at the beach, drive their cars where they wanted to and were in a social minority group living their own magical youth. Clives contribution to this book come to us from Garth Robinson who is based in J-Bay South Africa and as you can tell, the images have not been restored in any way at all.


Clive Barber was friends with the famous 'Pike Brothers' (Jim, Peter and Bob). In the first 'switch-foot' book we laid credit on Bob Pike, who was one of the first Australian surfers to go to Hawaii and take on the big waves. Robert Hughes Pike the pioneer, died in 1999 a few years after a serious accident left him unable to surf. For more information on Bob Pike have a look at the surfing film 'Locked In' (1964) or 'Stop The Wave, I Want To Get Off' (1965). We want to thank Jim and Peter Pike for more information on these photographs, some of which might be taken by Jim Pike himself.


We never spoke to Clive Barber, but his trusted friend Garth Robinson interviewed him for us and he said the following;


'We are looking for this film, African Vibrations. It was left at Ron Perrott's house in the late 1960's, then apparently sent to Capetown South Africa along with camera gear, with a woman named Anne Raag. Another clue was that it might have ended up at Glen Ritchies house. We don't know if the original film is in South Africa or Australia, but we would love to find it.'

Clive Barber
Clive Barber now lives in South Africa and surfs the waves with a bunch of like minded crew that love the trim.
Below is a poster from a movie that Clive made back in the early 1970's and it is LOST. Anyone who knows anything about it, could you please contact us.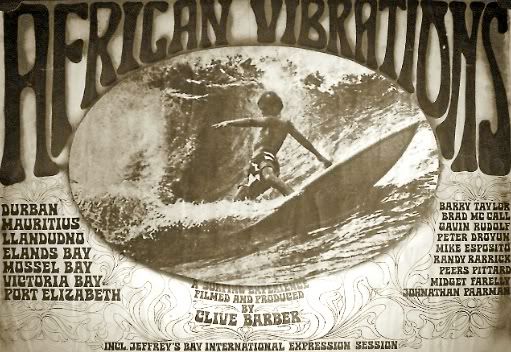 Anyone wanting to get in touch with Clive should have a look at Garth Robinsons website and drop him a line in South Africa. j-bay.com
While you are at www.j-bay.com view more of Clive's recently uncovered photos here clive barber vintage surf photos
To enquire about these images as photographic paper or canvas prints, signed prints, please email ac@switch-foot.com
Byron Bay surfing late 1960s by Clive Barber
Selected Work
Copyright © 2013, Hodaddy. All rights reserved