0 items | $0.00
Biography
Bob Evans
photographer
The following is written by Albert Falzon and after Albe there are also words from Phyllis O\'Donnell and Mal Sutherland.


Bud Browne was the grandfather of surf films. His early movies influenced many surf filmmakers including Bob Evans. Over the years Bob developed a friendship with Bud and eventually started screening Buds early films around Australia. They kept up a regular correspondence and often when I was working with Bob on Surfing World Magazine letters from Bud would arrive from California or Hawaii about the last great winter surf in the Islands. Influenced by Buds films Bob started filming in Australia and eventually he to made the trek to Hawaii to film the large north shore swells. Bud in a way was a mentor for Bob.


Bob Evans made thirteen feature length films in his short life. He not only raised all the money needed to make the films, as well he photographed, edited and then took each film on the road and screened them in halls and cinemas along the coast.


I first met Bob when he was working for a woman's lingerie company as a salesman. He called into a friends shop on the Central Coast and was invited around to their house for dinner. I was also asked to come along. Bob had a surfing film and screened the movie to the small family gathering. It was one of Bud Browne's films and had amazing footage of the North Shore and Dewey Weber. Mike Doyle and Kemp Aaberg surfing Makaha shore break. Bob always had equipment on hand – whether movie cameras or projectors and would often show his and Buds films to small groups. I was totally hooked.


Come November each year when the winter swells were approaching Hawaii Bob along with a group of hard-core Australian surfers would head over to the Islands to film Sunset and Waimea Bay. It became a regular yearly pilgrimage. One year he couldn't make the trip due to last minute family commitments and asked me to go in his place. With an hour's tuition on how to load the film and operate the camera and a few days to get organised, along with Baddy Treloar, I was on my way to the Islands. It was my first overseas trip and the first time I used a professional movie camera. It turned out to be an epic adventure with the biggest surf for ten years hitting the north shore and wiping out many houses. That set me on the path of filmmaking. Bob became a mentor for me.


We had many adventures together. Somehow things always seemed to work out in a very haphazard way. He never had any money. It was as if, he believed "something would happen". And more often than not we would head off overseas to film some location with barely enough money to cover expenses. One thing, he always knew someone in the countries we travelled through, often that person would owe him money from a screening of one of his films. Usually our first program on arrival was track down that person so we could pay for the hotel we were staying in, then rent a car and buy food. It was always like that. And it always seemed to come together. One time we were filming in New Zealand for several weeks and just completely ran out of money. Bob decided to book into this ritzy hotel and there we stayed booking up room service and food. After a week, with a big bill Bob still hadn't tracked down his "friend" who owed him money. So we'd just hang out by the pool ordering food and drinks without any idea on how we would pay the bill. Then he just walked in with a big grin on his face and money in his pocket.


Frank Pithers told me a great story about how Bob was under intense financial pressure with no credit at the bank and no cash on hand he was in a spot and then as he was driving through the city, he hit a road bump and a wad of cash fell out from under the dash board of his car and landed at his feet. Apparently he had stashed the money there after a film screening and forgot about it. That's pretty much how Bob lived his life.


He was totally committed to surfing – something he loved with a passion. He built his life around that and followed that path. He was always happy even under incredible financial duress most of the time. He made a great contribution to surfing media in this country and certainly put me on the path. Time passes but your experiences remain – the times shared traveling up the north coast together will always remain – he will never be forgotten for his loving kindness and great contribution to surfing.


By Albert Falzon.

thankyou albe!
By Phyllis O'Donnell

I was first introduced to Bob by surfings gentleman "Snowy" Mc Allister, it was in the early '60's when I had started surfing in Sydney, well before I moved to the Gold Coast.


At the time when women surfers were regarded as a novelty or a nuisance I was thrilled to think that the editor of Surfing World magazine would take the time to encourage and promote me and help me overcome the obstacles encountered by the few girls who surfed at that time.


As one looks back it was Bob who motivated and created the great talent that Australia has today in producing World Champions. It was he who organised the formation of the Australian Surfriders Association and encouraged the States to affiliate, from that of course came the 1st World Titles at Manly in 1964 which included a women's event.


This is only one of the many firsts he was responsible for and it surprises me that he has received so little recognition for his contribution to surfing. For my part I am grateful for the support he gave in those formative years.


Phyllis O'Donnell


I met Bob in 1957 or thereabouts, probably with Joe Larkin, and over the next couple of years our paths crossed in the search for new surfing locations. Through this association Bob asked me to distribute posters and to do theatre bookings for him in Queensland. At times when he was unable to travel with the movies because of business commitments I would collect the projector and screen at Taree and show the movies from there to Bundaberg and back. To me Bob was a man on a mission to promote surfing and like others I admired him for his drive and positive attitude, although he always seemed to struggle financially. When he travelled with the movies he never seemed to have any spares with the projector, apart from carbon rods which he couldn't do without anyway. With such a tight schedule showing on consecutive nights, sometimes at 300 miles apart, this occasionally caused problems.


Some of these problems I remember vividly, like setting up the projector at Mermaid Theatre late in the afternoon only to find that it had sound and no picture, resulting in a 90mph dash to Brisbane and back on the old two lane highway in Bob's Triumph 2000 to get spares, or to run out of sound in Lismore and face an agro crowd and have to refund their money, or arguing on the tarmac at Taree with TAA pilots at 3p.m. to accept the film as freight because Bob had a showing in Sydney that night (film was regarded as a fire hazard and not accepted as freight at that time), or showing to 8 people in Maryborough because in those early days they didn't know what surfing was all about.


They were good times and I am thankful that Bob trusted me enough to allow me to do it. He was a person I feel privileged to have known and I was saddened by his passing.

Mal Sutherland


The photographs on this page are frame grabs from one of Bob Evans surf films, Ride a White Horse 1967. They are not for sale. But you can buy the film here


Bob Evans
Bob Evans was enormously important in surfing in Australia in the early 1960s. He was entrepreneurial and influential … being personally responsible for the formation of what was then called the Australian Surfing Association, and for organising the first World Championships at Manly in Sydney in 1964. His contacts in business bought in Ampol as the first major sponsor of surfing in this country … a groundbreaking move.
Evo gave me opportunities in Surfing World that I'll always be grateful for … first by running my stories and pictures, and in 1966 letting me take over the July/August issue (see cover below) and do the whole thing … that was the 'New Era' issue. Later he must've wondered if he'd let loose a monster.
John Witzig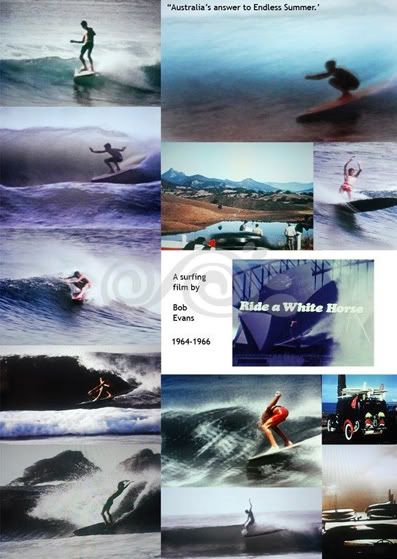 Bob Evans was a mindblower. The first real surf entrepreneur. Basically, he just loved surfing and everything to do with it, and wanted to spend his life involved in it.... Preferably with travel and adventure in great gobs.
To be invited on a 60\\\\\\\\\\\\\\\\\\\\\\\\\\\\\\\'s surf trip with Evo meant you were a bona fide surf star. He would drive a few of us up the coast to Queensland, pay for cheap accommodation, and feed you hamburgers. Then he\\\\\\\\\\\\\\\\\\\\\\\\\\\\\\\'d shoot you surfing, and that sequence would appear in next summers new film. Nat, Gopher, Platty, Wayne Burton, Bobby Brown, and of course Midget were the regulars. Some stills would appear in Surfing World magazine, and the cross-promo era was born.
Hawaii was always included, but his budgets usually ran out, and hapless surfers had to find their fare somehow. But Evo loved it all, and his tales while travelling would curl the ears of us young punks. Women stories mainly. And exotic lands.
One time I had a toothache while travelling with him. He bought me a bottle of Scotch and told me to keep the offending tooth wet with whisky. It worked, because I was too comatose to feel pain. Gotta love Bob Evans.
Bob McTavish
It\\\\\\\\\\\\\\\'s safe to say that surfing in Australia wouldn\\\\\\\\\\\\\\\'t be the same without Bob Evans. A visionary photographer and filmmaker, Evans created the first Australian surf movie - 1962\\\\\\\\\\\\\\\'s Surf Trek to Hawaii - launched Surfing World, one of Australia\\\\\\\\\\\\\\\'s first surfing magazines, formed the country\\\\\\\\\\\\\\\'s first national surfing organisation, and even staged the first World Surfing Championship, held at Manly Beach in 1964.
High on a Cool Wave is Evans\\\\\\\\\\\\\\\'s 66-68 document of Australias finest surfers. Most notably Peter Drouyn in Hawaii in the Winter of 66/67 and 67/68 surfing big waves on now defunct big wave equipment. Early footage of Nat, Bob and George in Australia surfing Noosa and Double Island Point with Keith Paul and others. film finale is Australian surfing titles 1968.
- R I D E - A - W H I T E - H O R S E - BY BOB EVANS
The roll call of surfers in Ride a White Horse is impressive to say the least. Nat Young, Fred Hemmings, Phil Edwards, Nipper Williams, Midget, Drouyn, Mike Doyle, Peter Cole, John Peck, Fellipe Pomar, Skip Frye, Corky Carroll, Rod Sumpter, Rusty Miller, Joyce Hoffman, David Nuweva, Frank Latta and of course the late and great Bobby Brown. In fact it is Bobby Brown\\\\\\\\\\\\\\\'s surfing that really caught our eye. Bobby Brown is a standout surfer in this film surfing perfect Angourie and other Northern NSW point breaks. Bobby Brown is a tragic story, a brilliant surfer who died way too young...he died in a barfight.
Nat Young and Midget star in what appears to be 1965 and then onto the World Championship in San Diego which of course Nat Young won> Ride a White Horse has footage of Nat Young driving away with his trophy, a brand new Chevy Camaro Coupe!!
In Ride a White Horse the surfing is simply HOT…mostly free surfing, with a portion of contests as well. Bob Evans and the surfers had to be at the contests and they made the film around their travels to these International surfing events. There is footage of Midget Farrelly as a kid, aged 13, surfing.
The surfing destinations in Ride a White Horse are dreamlike. Bob Evans travelled the World making this film, 'Ride A White Horse.' It has really good waves in Hawaii, big Hawaii, and surfers taking on Makaha, Sunset, Honolua and other surfing breaks. Peru is featured when all the surfers flocked there for another big surfing contest that Midget won.
Australia…oh my. The footage of Cresent Head, Angourie, Byron Bay, Currumbin, Noosa, Double Island Point….incredible. Even George Greenough makes an appearance on the camping trip to Double Island where they all surf long long rides.
There is water photography, aerial photography, sunrise, sunsets, old cars…D fins, dork fins, spoons, air mattresses, toothpicks…even the Duke drops by!
The soundtrack is instantly one of my favourite surfing film soundtracks. Apart from the sublime and exciting 16/35mm footage of famous local surfers and identifiable Australian beaches and Aussie cossie culture, RIDE A WHITE HORSE has possibly one of the best jazz soundtracks imaginable. Norwegian émigré and now Sydney-sider composer Sven Libaek composed and played with his combo an exciting humorous and thrilling jazz ensemble composition which still is unique and beautiful today.
The film\\\\\\\\\\\\\\\'s main drawcard (apart from the awesome surf footage) is the jazzadelic score featuring Sven Libaek whose music was used in Wes Anderson\\\\\\\\\\\\\\\'s The Life Aquatic with Steve Zissou.
You can listen to a track from the film hereto hear how good it is.
It is not surprising how well jazz works with the surf genre. This alignment can be seen in even earlier works such as the Lalo Schifrin score to the rarely seen Gone With the Wave (1963) and the fantastic anti-skateboard pseudo-doc The Devil\\\\\\\\\\\\\\\'s Toy (1966) with its beautiful and free-flowing score featuring Genevive Bujold.
We cannot rave on anymore about this film. At 78 minutes long it is also great value and a film that will hopefully be enjoyed for another 5 decades.
*
buy Ride a White Horse surfing film 1968here
To enquire about these images as photographic paper or canvas prints, signed prints, please email ac@switch-foot.com
Frank Latta from Bob Evans film Ride A White Horse
Selected Work
Copyright © 2013, Hodaddy. All rights reserved